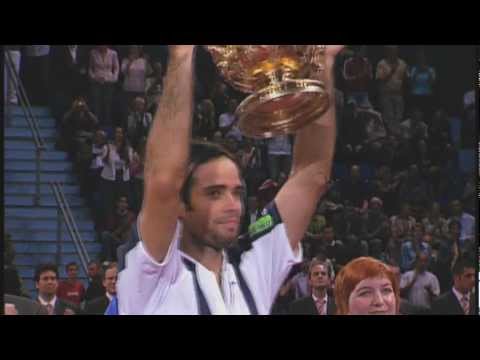 Chilean tennis star Fernando González played his last professional tennis match last night, retiring after a 12-year career. His fellow players said goodbye in the above video which was played last night after González's last match.
González won a total of 11 ATP titles over his career, and reached the no. 5 in the world in 2007 after going to the finals of the Austrailian Open. He won three medals at the 2008 Bejing Olympics: gold, silver and bronze.  Along with Marcelo "Chino" Rios, González is the best Chilean tennis player of all time.
He played his last match last night at the Masters 1000 in Miami, in which he lost to Nicolás Mahut.
González is planning a goodbye tour to be played in three locations in Chile with players such as Roger Federer, Andy Roddick y Juan Martín del Potro would be some of the invited players.
Source: La Tercera, Santiago Times